Live Event Streaming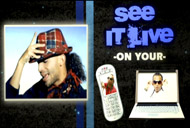 Live Event Streaming Video. It's one of the fastest growing sectors on the internet. More than a trend, it's cost effective technology to engage countless viewers to your brand. Streaming video is an online force to be reckoned with!
Content Media Group is your new media partner. We've been streaming live video before the advent of the dial-up modem. Rocking the pipe at 28.8k brings back memories that would drive anyone to drink. If you're not incorporating live streaming media into your web presence, you're missing out on tremendous opportunities.
Using Content Media Group to stream your event may propel you to Superstar Status. No, we haven't had one too many Prozac Lattes. Follow the logic:
The only thing more unbelievable is our budget-friendly suite of video streaming services for live events. With over 20 years of award winning video production experience, we get it...and would love to share it with you. Focus groups, concerts, employee training and corporate meetings are popular live video streaming events. What can we stream for your business?